I totally kicked Aristotle's ass in my paper! That's right big A, you just got PWND by one of your notorious "deformed males," AKA a FINE ASS, EDUMACATED WOMAN.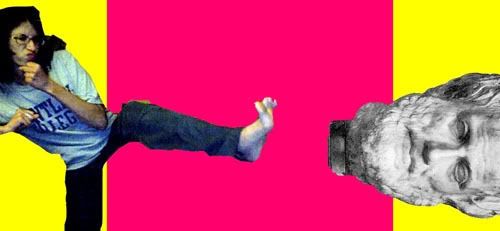 Aristotle,
Is it not true that 'deformity' is generally defined as a straying from the ideal image of an object? And if this is to be assumed a correct statement, then in an "ideal" world, all humans would be of the ideal image; or, in your words, we would all be successfully formed males, with the ability to produce semen and the capacity to foresee and generate another being in our likeness. However, no matter how "successful" a semen production, or how hot our body temperatures, or how grand our capacities of foresight, our ideal world would not last more than one generation. In fact, it probably could not exist at all. Successful males cannot reproduce with other successful males, they can only mate with unsuccessful ones according to your theory. Therefore, assuming I have stated your theory correctly thus far, it is safe to say that the ideal world is actually the non-ideal one, in which the deformed are essential to continuation of my and your species. So, then, it turns out that a woman is not of the non-ideal body at all, as she is actually essential to the survival of our species; the continuation of which is the only relevant factor in an ideal world, as without this continuation there is no world at all. So to say a a non-ideal body is the cornerstone to an ideal world, or that deformity is the perfection of form, is a horrible contradiction.
Hey Aristotle…. YUH FIRED!